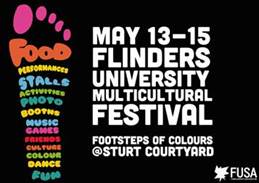 Did you know that the Flinders University Multicultural Festival is fast approaching?
When: Wednesday 13 May to Friday 15 May, 11am-5pm
Where: Sturt Courtyard (between Sturt Gym and Decafe)
Between number 3, 4 and 5 on the campus map attached
If you're coming by loop bus, make sure to get off at car park 13!
Get your traditional costume ready - or just come along 11am - 5pm, Wednesday 13 May to Friday 15 May, to enjoy an immersive cultural journey with great food, music and entertainment.
• Over the three days, 15 international student associations will provide 32 performances
• For $5 or less you can enjoy home-cooked traditional cuisines from 12 countries.
But it's not all fun and games: contribute to a fantastic cause by joining in the fundraising efforts of 'Flinders for Nepal,' providing relief and support to Nepal in the wake of the recent earthquake.
Are you interested in getting involved? We're still looking for people to represent their country in an opening ceremony on Wednesday, 13 May at 11am. Contact international.officer@flinders.edu.au for more information or to express your interest.
For more information, please click on:
https://www.facebook.com/events/1090996034250449/
https://www.facebook.com/FUMCF2013?fref=ts
We'll see you there!
FUSA